Commercial
We at Kustom Gutters are proud to be leading commercial gutter installation experts. With more than 44 years of experience in the gutter industry, we love helping businesses quickly and efficiently update their exteriors.
Commercial Gutter Installation & Repair
So, what is involved in commercial installation? When you work with Kustom Gutters, the entire process is seamless from start to finish. Our professional technicians will consult with you to determine what unique challenges you might be facing with your current gutters. Then we'll create a custom gutter installation plan that solves all of your issues.
Not looking for new gutters? Kustom Gutters also offers quality gutter repair that will easily fit your budget.
Average Cost of Commercial Gutters
Commercial gutters can be installed on hotels, apartment complexes, office buildings, shopping malls, restaurants, and more. Your chosen aesthetic may affect the cost.
The Kustom Gutters Difference
Kustom Gutters is a family-owned-and-operated business that is extremely knowledgeable about commercial gutters and passionate about impacting the industry positively. We are so confident in our work and technicians that we guarantee our gutters 100%. We promise you won't find a more hardworking or trustworthy commercial custom gutter company in the Houston and areas.
Ready to start the commercial installation process? Contact the Kustom Gutters team today for a quote.
Gutter Installation
Let Kustom Gutters do the heavy lifting for you when it comes to gutter installation!
We are proud to provide the best gutter products in the Houston area and strive for our installation services to be the best as well. Kustom Gutters understands you live a busy life, so we're ready to work around your schedule to make gutter installation a reality.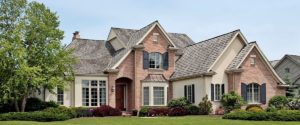 The typical installation process takes one day. The Kustom Gutters team shows up on time, ready to work, and equipped with all the necessary tools to get the project done. And while we recommend owners be present during the work, it's not required. If owners do stick around, we invite them to ask questions and voice feedback; we want to make sure you fully understand the work we're completing, as well as all aspects of your new gutters. Then, once our job is finished, we'll clean up your property. This includes removing everything we brought on-site, as well as your old gutters and any debris. In fact, we often leave the property in better shape than when we arrived.
Most importantly – and thanks to decades of experience, our advanced technology, and only the best products in the industry – we'll install your gutters accurately and in a timely manner. We even guarantee our workmanship in writing! After all, we do whatever we can to make you happy and proud you chose Kustom Gutters to fulfill your gutter installation needs.
Gutter Clean Out
Could your current gutters use a good clean-out? Not simply brushed over, with the leaves picked out, and an average Joe tidying up, but a thorough cleaning? If so, call Kustom Gutters today.
Gutters should be cleaned out at least twice a year, particularly if you live in an area with lots of trees. While most companies only clean the gutters, we also clean all downspouts, then water test for proper performance. If necessary, we can clean out any clogs and retest with water for proper performance. For the team at Kustom Gutters, the job isn't done until it's done right.
On the day of the scheduled cleaning, you can expect us to show up on time and with all the needed products and equipment. Depending on the specific job, you shouldn't expect us to be on the property for more than a few hours or so. When the job is finished, we'll pack up all of our equipment and leave the property as clean as we found it (except for the gutters, which will be much cleaner!).
Kustom Gutters does not simply service our clients' needs, but also educates clients on all things gutters. It's important for you to fully understand what we are doing and why we're doing it, so any questions or feedback are welcome. This is why Kustom Gutters is more than your average maintenance company – we care about our clients as if they're family.
Gutter Covers/Gutter Screens
At Kustom Gutters, we have a variety of products to serve any gutter-related want or need, and gutter covers (also known as gutter screens) are no exception! Both gutters covers and gutter screens are common – especially if your gutters are prone to collecting leaves, twigs, and other debris.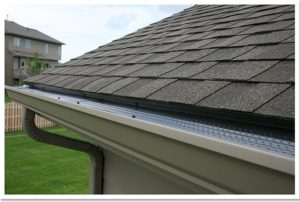 To minimize future gutter clean-outs and clogs, our team may recommend a gutter screen or gutter cover to safeguard the water flow. Not only can we educate you on the best screen or cover for your particular gutters, but we can also install them. In fact, for your convenience, we keep these covers and screens on-hand and can install them during any visit, even if this service was not originally requested.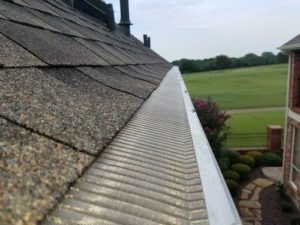 This is one of the ways Kustom Gutters stands out as one of Houston's best gutter companies. Because we're proactive, you won't have to set up another appointment, meaning your time will never be wasted. We believe convenience and satisfaction go hand in hand, and we always want our clients to feel as if they've been given the most for their time and money. That means we'll even tell you when a gutter cover or screen isn't necessary.
Gutter and Downspout Repair
Need a gutter or downspout repair in the Houston area? Look no further! At Kustom Gutters, we can handle all your repair needs.
Our team professionally fixes:
Leaks
Pitch Problems
Loose or Separated Gutters
Loose or Disconnected Downspouts
Falling Gutters
Broken Gutters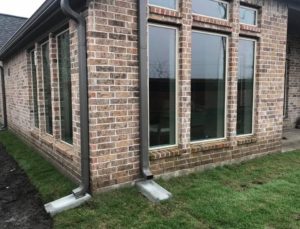 Deciding whether you need a repair or a new system can be tricky. After all, what's the point of repairing your gutters if they're only going to fail you again in a few months? That's why our process first begins with assessing whether you need new gutters or simply a repair that will stand the test of time.
If we determine you can benefit more from a repair, we'll schedule an appropriate time to get the job done. Though we recommend owners stay on-site while we perform our work, the job will be completed to the highest standards regardless.
On the day of the scheduled repair, you can expect us to show up on time with all of the needed equipment to do the fix adequately, professionally, and in a timely manner. Then, once the project is completed, we'll clean up and leave the property better than how we found it.
And if at any point in the process you have questions or feedback, please let us know!
Request Service Today!
Our experienced team at Kustom Gutters is here to help you with any gutter repair or installation needs!
We'll provide services around your schedule at a price that's right for you – and our workmanship is guaranteed.